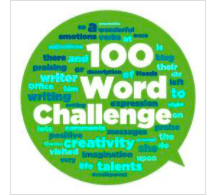 Meya's entry for Week #21 was selected for the 100 WC Showcase!
Read her entry below:
I, King Sisyphus, couldn't believe my luck. Free of punishment once I rolled a boulder up a hill? Easy. Smiling to myself, I glanced at the retreating robed figure of Hades. I trudged toward the boulder, readying myself for freedom. I started rolling the stone upward, but it was heavier than I expected. Almost there! My forehead beading with sweat, I neared the top. Suddenly, I lost hold of the boulder, and it tumbled down, me in its path. I sprinted down at full speed, panicking, trying to dodge the boulder. And that, kids, is why you don't cheat death.
Allen's entry for Week #19 was selected for the 100 WC Showase!
"But why?" Jade exclaimed, exasperated at Miller's stubbornness. "You could get caught, and do you know how much money that's worth?"
"But Jade, you don't understand, do you? There's more to life than being normal. You won't ever feel the exhilaration of being in a chase, the adrenaline as you soar through the air, like a falcon diving from the sky. Some people just don't understand that."
No point arguing with him, Jade could only watch as Miller advanced, wrestling the wind with each step, until he was aboard the helicopter.
"So long, partner," was the last Jade heard of him before the craft rose into the air, and with a whoosh, Miller saluted and disappeared.
When it just wouldn't take off…